Jeff Koinange Houses: Popular Citizen Tv journalist Jeff Koinange's multi-million houses have been put up for auction.
The houses estimated to be worth Sh. 200 million include two four-bedroom villas. According to a report that appeared in the Nation Media Group's Business Daily, the houses were put on auction over a Sh. 130 million bank debt. Yesterday, though, there were reports that Mr. Koinange had denied that his houses were being auctioned. This is after the auctioneer's advert went viral on social media.
The houses in the high-end Kitisuru area sit on 0.67 acres and are each attached with a servant's quarter. They will be sold on April 28. "The title is a free hold interest. The current annual rates payable amount to Sh. 16,500. The annual rates payable together with accrued penalties amount to Sh. 70,291 as at 27.01.2020," the advert by Garam Investments says in part.
Mr. Koinange is said to owe the Kenyattas' NCBA bank up to Sh. 65 million, which is the unpaid figure out of the Sh. 130 million debt. The debt is said to have fell into default last year.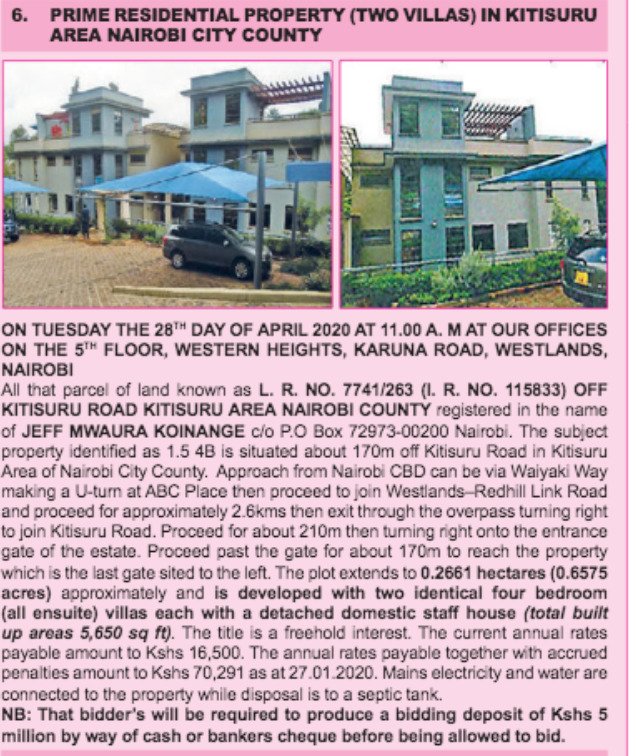 Mr. Koinange, a former CNN journalist currently working with Citizen TV, is one of the highest paid journalists in Kenya. He is considered rich and flashy, with a monthly salary estimated to be at Sh. 2 million.
The report in the local daily says that Mr. Koinange was living in one of the villas and had rented the second one — which initially he had used for storing art pieces.
According to Garam auctioneers, those seeking to buy the two villas through the public auction will need to place a deposit of Sh. 5 million ahead of bidding for the prime homes. Being a household name in Kenya, the reported auctioning has caught his fans by surprise.